Supervision Coaching – Whatsapp & Facebook Messenger
004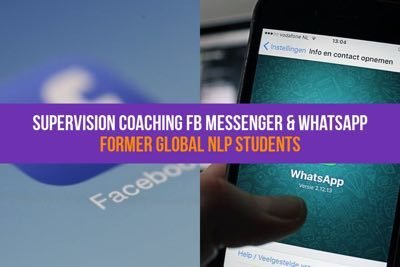 Highlights
The cherry on top of your free post-course support.
Customized based on your needs.
Answer within 72 hours.
Personal supervision from an expert.
Support through your first steps after the training.
Supervision Coaching – Whatsapp & Facebook Messenger
---
This Service is only for former students of Global NLP Training.

---
Course content related questions are part of our post-course support and free of any charges. Ideal for the type of questions you would ask with 20 others in the room, because a step in a pattern is not clear, what technique would be the easiest to start with to practice NLP at work, what the difference is between applying NLP face-to-face or over the phone. The type of questions, to which the answer has relevance to most people in the room. Completely suitable for one of our trainers to turn into a public blog post, or a video benefitting all former students who are using our Global NLP App.

Sometimes you need a little more than that! Privacy could be a serious matter for a client. Or you have a question specific to yourself, a specific person in your life, a context you only experience, a coaching client you only have. Some of you want to run an idea past an expert to apply NLP in their job, or in the specific context of their organization. Some of you want to run the structure of a pattern you designed for a client by an expert or get stuck. Or simply want to know what book to buy, what course to take next. Or have a quick set of ideas how to apply NLP in a given situation. To become a better NLP Practitioner or Master Practitioner.

Yet, what holds you back, you know that 10 minutes of personal time of a trainer who trained 1000s of students around the world, is not a reasonable thing to ask. At the same time it is not quite enough to schedule a coaching session with an expert for. If only youcould message or Whatsapp your trainer? That's what this service is about. You can.

This service is ideal for a communication where:

You only have 1 question.
Don't require immediate answers.
Reading & answering your question takes less than 10 minutes. You know your trainer, will she spend more?
The coach can answer in integrity despite not knowing the detailed context you are in.
And never having met your client or other players in the given context.
These less than 10 minute messages are by no means a conversation. Conversations are more suitable for coaching, supervision or consulting in person for an hour. This service is simply a quick life-line for a single question. And you will get an answer in 72 hours.

And if your coach doesn't know the answer, or your question is too complex to read and answer in 10 minutes. The coach can simply tell you, deal? Then you can simply ask another question at any time, or ask part of your question.
A reduced rate applies for a package of 5 or more at $12.99 per message.