NLP Practitioner Video Course & Coaching Forms - Former Students Only
00002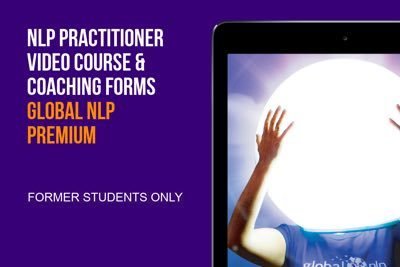 Highlights
Full NLP Practitioner training inclusive of instructions & demos.
Exercises to do at home & in the real world.
NLP coaching forms & NLP legal agreements.
Additional patterns & exercises not taught in class .
Workshop designs to host your own NLP introduction class.
NLP Practitioner Video Course & Coaching Forms
---
This product only available to former students of Global NLP Training, access will only be given after our back-office manager verifies you trained with us, and manually sets up an account for you.
---
For students who are dedicated to their practice of NLP & coaching after the training we have created this product. The product is inherently a post-course toolkit, allowing you to augment your skillset and enjoy the training all over again.

NLP Practitioner Videos

The full course taped in a high quality studio environment by Nicole Schneider our most senior trainer, with real life NLP coaching clients who have never taken our training before. All instructions & demonstrations are available for the entire class you love so much. Nicole provides tips, tricks, and especially designed homework assignments for you to do at home with or without clients.

As it is a post-course product it allows us to give instructions about how the different elements of NLP can be used together. For example the concept of submodalities (taught last in the training) can be combined with the concepts covered first in class.

Videos included:
Introduction
What is NLP
Lemon Exercise
Your Movie Theme Song Pattern
Art of Problems Pattern
Association/Dissociation
Verbal & Non-Verbal Communication
NLP Model of Communication
Levels of Learning
Significant Components of Experience
Presuppositions of NLP
History of NLP
Sensory Acuity VAK/OG
Observing Congruence and Incongruence
Rapport, Matching and Mirroring
Pacing and Leading
Psycho-Geography and Predicates
Perceptual Positions
New Behavior Generator
Eliciting States, 4-Tuple
Setting an Anchor,
Circle of Excellence
Integrating Anchors
Meta Model (taught in more detail than class)
Well Formed Outcomes
Eye Accessing
TOTE
Milton Model (taught in more detail than class)
Submodalities
Map Across
Fast Phobia Cure
SWISH.
Demonstration videos: New Behavior Generator, Setting an Anchor, Circle of Excellence, Integrating Anchors, Eye Accessing, TOTE, Map Across, Fast Phobia Cure, SWISH.

Example of a video:
Looking Through The Eyes of Someone Who Loves You Training
Nicole's pattern which everyone loves!

Videos:
Demonstration
Instruction
Instructions to tweak the design.
This products also comes with a manual of the design.

Workshop Designs (Host Your Own NLP Introduction Workshop)

Includes: instruction video & design document.
Coaching Forms & Contracts

Our coaching contracts are:
Created by a USA attorney in collaboration with our very own Nicole Schneider (who holds a Master of Laws Degree in The Netherlands.)
Specifically mention and/or cover NLP based coaching.
Sets apart NLP & coaching (for well-being), from therapy (for ill-being and mental health issues.)
Are designed by a graphic designer.
Contracts included are: Release of Liability (single client & group), Non-Disclosure & Confidentiality (single client & group), Coach-Client Agreement (cancelation policies, payment, coach/client relationship, what is NLP and much more.)

---
Disclaimer: all documents need to be checked for legality & enforceability in your local jurisdiction and your specific services, or use at your own risk!

---
---
Our coaching forms are:
Professionally designed by a graphic design artist.
Professionally formatted by a Desktop Publisher.
Content created by Nicole Schneider, our most senior trainer & coach.
Created with input & ideas from successful NLP coaches around the world.
All texts, logo, images, colors can be customized as they are fully editable!
Coaching forms included:

Contact Information Form: contact & emergency information, personal information.
Personal History Form: accomplishments, life path, failure is feedback.
Coach Success Assurance Form: meta model questions to assure you can meet & manage your client's expectations and needs.
Goals Form: long term, short term, inclusive of meta model questions.
Well Formed Outcomes Form: based on the process taught in NLP Practitioner.
Emotion & Life Satisfaction Form: current map, desired map measurements.
Wheel of Life: wheel of life instrument and NLP values/criteria notation.
Coaching Preparation Form: meta model questions for feedback by the client between sessions to prepare for the next session.
2 Client Tracking Forms: payments, late/no show, attitude around tasks, satisfaction etc.
Client Progression: interim evaluation records, wheel of life scores, conscious/unconscious shifts, well formed outcomes reached.
Client Satisfaction Evaluation: feedback form.
Submodality Notation Sheet: submodality list, map across.
Bonus: NLP Metaprograms Notation Form
---
This product is only available to former students of Global NLP Training, access will only be given after our back-office manager verifies you trained with us, and manually sets up an account for you inside Global NLP Premium. It is based on a single user license, meaning a license for one person (you.) Five licenses can be purchased for: $200 dollars each.
---