MBTI Step II Assessment - Former Master Practitioner Students
00003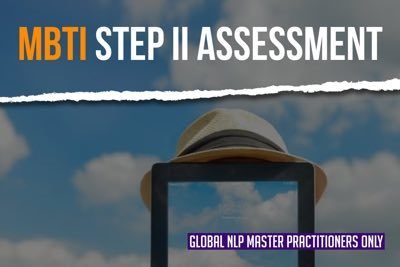 Highlights
Moving beyond the limitations of the step I report you took in class.
45 minute coaching session to talk about your results.
The clarity you need with a more extensive & detailed assessment.
Taking the 4 ways we differ (in step I) into the 40 ways that we do (step II.)


MBTI Step II Assessment
In class you took a 1 day extensive training based on the Step I MBTI assessment you received. Through instructions, games, exercises and of course assessment we helped you discover and determine your type. Often students want to receive a more extensive assessment, or gain clarity in those areas where their were unclear (close to the midline.) We then took this knowledge into training NLP meta-programs, and against found a deeper understanding into our own "type." To then like this to emotional-intelligence training.
Students still wanted more, as they love MBTI so much.
The MBTI Step II report is a whole new assessment you would need to take, and comes with 45 minutes of coaching.
The facets that will be determined:
Extraverting

Initiating
Expressive
Gregarious
Active
Enthusiastic

Introverting

Receiving
Contained
Intimate
Reflective
Quiet

Sensing

Concrete
Realistic
Practical
Experiential
Traditional

Intuiting

Abstract
Imaginative
Conceptual
Theoretical
Original

Thinking

Logical
Reasonable
Questioning
Critical
Tough

Feeling

Empathetic
Compassionate
Accommodating
Accepting
Tender

Judging

Systematic
Planful
Early Starting
Scheduled
Methodical

Perceiving

Casual
Open-ended
Prompted
Spontaneous
Emergent
As you can see, the awareness that you can gain from step II exceeds those of step I. For example in Step II you could find out in what facets you introvert, even though Step I reported you were an extravert.
The process:

1. After purchasing your product, we will verify in our database of you received our personality and type training during your NLP Master Practitioner. As this is a requirement to fully being able to understand and interpret your results.
2. You will receive an online link from our back-office to do the assessment.
3. You will be receiving your results within 5 working days.
4. Nicole Schneider will schedule an appointment with you, as soon as she is no longer traveling. Your session may be scheduled anywhere from 1 week to 4 weeks after the completion of your assessment. A scheduling is based on availability. Unfortunately, no other coach can do this with you, as Nicole is the only one in Global NLP Training who is licensed to hold this next level up assessment.