Language & Magic of NLP Master Practitioner - Former Master Practitioner Students Only
00004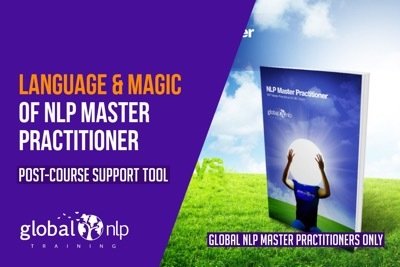 Highlights
Ideal post-course learning aid for graduated Global NLP Master Practitioners.
Demonstrations, lists and examples of language use.
Many materials & demonstrations not given in class.
58 transcripts, 58 audios & a recording time of almost 6 hours.
Presented by Nicole Schneider.

Language & Magic of NLP Master Practitioner

---
This is not an NLP Master Practitioner training, it is a post-course support tool. To honor the commitment for Global NLP Master Practitioners, we only have this product available to those students who have taken the course with us.
---
Immerse yourself into the world of NLP Master Practitioner language while you are driving, exercising, or simply from your lazy chair. And have the transcripts as a reference point.

Acquiring flow, creativity, and flexibility in the language used during the execution of the NLP patterns and communication tools learned in the NLP Master Practitioner training after the class has ended is an important thing. One cannot truly call themselves an NLP Master Practitioner unless one practices NLP and maters the tools through practice. The training is only the beginning of the NLP journey.

To gain mastery and efficiency (magic) in the application of NLP, our students asked us for years to put a product together with the words, word combinations, sentences and sentence combinations the instructors use in our teachings and class demonstrations. We met this request and the result is this product, a new way to augment your skills in communicating with others using NLP and to give you a solid lifeline in preparing for your first NLP coaching session to give your customers the best you can offer, as well as those that wish to master their NLP skills for their personal and professional lives. Both the new as well as the experienced NLP Master Practitioner will benefit.

This audio series gives many demonstrations, lists and examples never presented in class.
---
This audio series is not an NLP Master Practitioner training, and contains no instructions or definitions.