Gaining Coaching Clients Through Social Entrepreneurship
002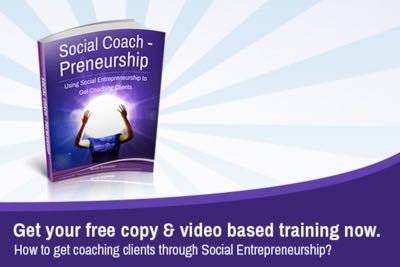 Highlights
Help the less than privileged & grow your business.
Gain coaching clients & increase your visibility.
Improve your personal branding & beat the competition.
Find out how you can increase your coaching rates through this model.
E-book & 1+ hours video based training.
---
Gaining Coaching Clients Through Social Entrepreneurship Course
Nicole Schneider, the founder and owner of Global NLP Training teaches coaches around the world, and designed a new business model for gaining clients through Social Entrepreneurship. She calls it "Social Coach-Preneurship." The model is presented in a book and a 1+ hour video based training.

You will learn how Social Coach-preneurship:

1. Increases your visibility, and why.
2. Helps you gain coaching clients.
3. How to implement the Social Coach-Preneurship business model.
4. Improves your personal branding.
5. Set yourself apart from your competition.
6. Why you can charge more than your competition using this model.
We would appreciate a donation of your choice for the school of mentally disabled children on Bali. We put a pricing point of US$5 dollars to start with as a minimum, and you can add as many $5 dollar increments to your shopping card as you wish. If you really have no idea, we recommend donating 30% of your (intended) hourly coaching fee. Or $5 dollars if you can't afford to buy a coffee at Starbucks at this moment.

To find out more about the school of mentally disabled children of Bali (Indonesia), or to visit them in Ubud: Sjakitarius.nl.
---
For subscribers to our newsletter, both the book as well as the online training are available free of charge by visiting our Social Entrepreneurship Page. You can avoid the donation entirely.
Did you know that scientific research shows that doing something altruistic, and being of service to others increases your level of happiness? And a sense of having meaning beyond just yourself? Those are things a a good coach by nature has engrained into the fiber of their thoughts, behaviors, emotions and habits.
Would successful future social entrepreneur download this product for free, or leave a donation? The time and effort to create this product was meant to benefit the mentally disabled children of Bali, and to promote other coaches to use the same model for causes they are passionate about.
Karma!