14 NLP Coaching Forms & 5 NLP Contracts
00001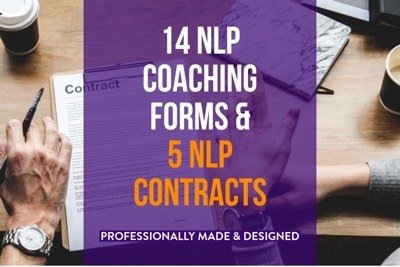 HIGHLIGHTS
Forms created specifically for NLP coaches.
Legal agreements & contracts specific to NLP coaching
Created by experienced coaches, NLP trainers, and attorneys.
Created by graphic & desktop publishing design professionals.
Easy to customize for your own branding & use.
Only $12 per form or contract.
---
NLP Coaching Forms & NLP Contracts

The first impression is everything! One of the first things that a client is sees when they book a coaching session, are your forms and contracts. Your forms need to have a professional looking image, and also the quality of information gathering is a determining factor for your results as a coach. It is a requirement to have the right contracts in place, to keep you safe, clients also expect this from a professional.

A common problem is that NLP coaches lack the expertise and time to create high quality forms and generic coaching forms do not consider or mention NLP. And wouldn't it be nice if there was a coaching contract that also covers and/or mentions NLP specifically?

---
Note to former Global NLP Training students this product is included in the Global NLP Premium product which contains NLP Practitioner video training & additional instruction videos for a small investment in yourself extra.
---
Our coaching contracts are:
Created by a USA attorney in collaboration with our very own Nicole Schneider (who holds a Master of Laws Degree in The Netherlands.)
Specifically mention and/or cover NLP based coaching.
Sets apart NLP & coaching (for well-being), from therapy (for ill-being and mental health issues.)
Are designed by a graphic designer.
Contracts included are: Release of Liability (single client & group), Non-Disclosure & Confidentiality (single client & group), Coach-Client Agreement (cancelation policies, payment, coach/client relationship, what is NLP and much more.)

---
Disclaimer: all documents need to be checked for legality & enforceability in your local jurisdiction and your specific services, or use at your own risk!

---
---
Our coaching forms are:
Professionally designed by a graphic design artist.
Professionally formatted by a Desktop Publisher.
Content created by Nicole Schneider, our most senior trainer & coach.
Created with input & ideas from successful NLP coaches around the world.
All texts, logo, images, colors can be customized as they are fully editable!
Coaching forms included:

Contact Information Form: contact & emergency information, personal information.
Personal History Form: accomplishments, life path, failure is feedback.
Coach Success Assurance Form: meta model questions to assure you can meet & manage your client's expectations and needs.
Goals Form: long term, short term, inclusive of meta model questions.
Well Formed Outcomes Form: based on the process taught in NLP Practitioner.
Emotion & Life Satisfaction Form: current map, desired map measurements.
Wheel of Life: wheel of life instrument and NLP values/criteria notation.
Coaching Preparation Form: meta model questions for feedback by the client between sessions to prepare for the next session.
2 Client Tracking Forms: payments, late/no show, attitude around tasks, satisfaction etc.
Client Progression: interim evaluation records, wheel of life scores, conscious/unconscious shifts, well formed outcomes reached.
Client Satisfaction Evaluation: feedback form.
Submodality Notation Sheet: submodality list, map across.
Bonus: NLP Metaprograms Notation Form


---
Any of these items can not be purchased separately.